The appearance of stars last night meant only one thing: It would be cold in the morning. Frank and I were neither surprised nor disappointed when the 6:30 AM thermometer check revealed a temperature of four below zero. That wasn't bad. Temps were a lot colder in other parts of the valley and around the state. We were glad that we filled up the feed bunks for the mules last night. All we had to do this morning was feed the woodstove another piece of firewood.
Shortly after noon, the mercury climbed into the low teens. By the time I suited up and left the comforts of my house, the thermometer had reached 14 degrees. The previous day's 5-inches of snow was light and fluffy. I expected it to be the kind of snow that muffled sound, the kind that embodied the hush of winter. Instead, on this perfectly calm day, sounds seemed amplified. Snow squeaked under foot; the calls of eastern blue jays sounded extra loud and crisp. What else would surprise me?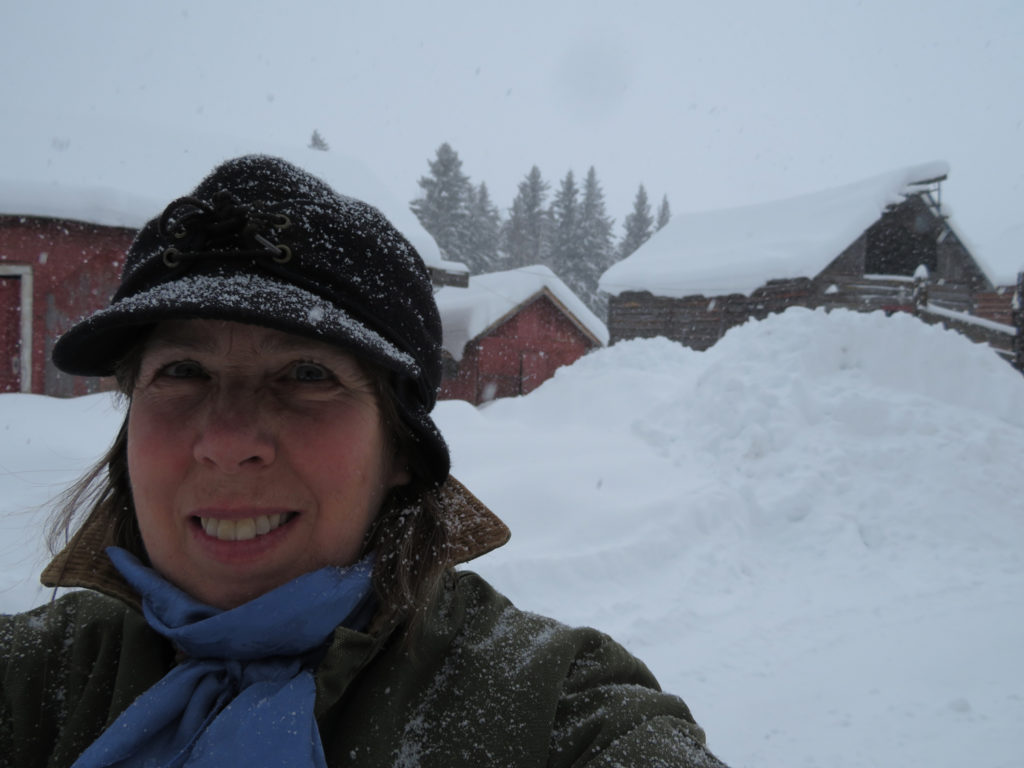 Yesterday, parts of the creek wore a slushy coat. Today the creek was iced over and, in places, covered with hoarfrost. With overcast skies blocking the sun there wasn't much sparkle on the frost, but that didn't matter. I inched closer to the creek, carefully belly-crawling (and hoping to keep from sliding headfirst, like an otter, onto the frozen surface). At eyeball to frost level, details of the delicate, crystalline fans and needles, and fern-like crystals came into focus. They looked exquisite, familiar and foreign, all at the same time.
Back on the trail, the lower branches, twigs and needles of spruce and Douglas-fir reminded me of thick, gloved fingers. The snow covering them appeared heavy even though the snow fell just yesterday and no melting had occurred. I didn't want to take off my two pairs of thick gloves to check it out so there was only one other way to investigate. Like a kid, I stuck out my tongue and licked off some snow which (of course) turned out to be light and fluffy. Most surprising was the feel of ice crystals changing shape as they melted on my tongue and lips. I repeated this "experiment" numerous times with similar results. IT…WAS…SO…FUN!!!
As I started up the hill from the creek to the house, I looked back at the tracks left behind. Meandering boot tracks gave way to belly-crawling tracks and back to boot tracks. I'm not sure how much snow I sampled or how many times I was eye level with the creek looking at hoarfrost. Time went quickly and I was surprised that more than 30 minutes passed before my fingers started to feel cold. It was time to go in and warm up with a hot cup of tea, and reflect on the fun of forest bathing at 14 degrees Fahrenheit.
Tips for Frosty Weather Forest Bathing
Winter is a magical time to connect with nature. The secret to enjoying it is to stay warm and safe. Everyone has different tolerances to the cold and you're the best judge of you. Full disclosure: I get cold really easily. But I also get outside – for at least for a little while – everyday.
Here are a few tips and tricks I find useful: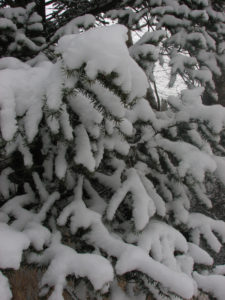 DRESS MUCH WARMER THAN YOU THINK YOU NEED. We don't generate much heat while forest bathing, so dress warmly.


Dress in layers.


Wear your warmest hat, scarf, gloves/mittens, coat, pants and boots. Have some spare clothing in your pack that you can put on if needed.


Use hand warmers. * Place toe warmers in your boots before starting.


KNOW YOUR LIMITS. Be safe.
"There's no such thing as bad weather, just inappropriate clothing."  ~Anonymous
*You can make ecofriendly handwarmers by placing small rocks in boiling water for a few minutes. Scoop them out with a spoon. Dry the rocks completely before going on your walk. (Select rocks that fit in your pockets and the palm of your hands.)